Krysolis is my baby. It's a graphic novel that my best friend and partner, EdE, created and he and are continuing to work on it. It's still in the formation process, though we're making progress towards getting it published. Here I have some of the concept art for it.
The story revolves around a group of five kids who live in a future Japan, in what once was Tokyo. It's a little post-apocalyptic, a little steam punk, a little sci-fi, a little horror, a little fantasy, and a bag of chips It is a world in which interior realities can be physically entered and metaphysics is a part of everyday life.
NEW!!! The long-promised senior project, a 20-page graphic novel, Apoidea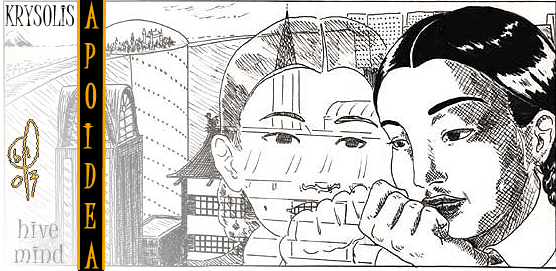 Characters Characters and what they look like.
Gallery Includes more sketches and formal pictures of the denizens of Krysolis
Cloud Nine Places, metaphysics, and things that make up the world the story takes place in.
Goodies A new addition: some wallpapers, avatars and icons I've made.
A special treat! A little snippet I did for one of my art projects: A shiny, colored two-page spread! Is this what Krysolis will look like in publication? Maybe!
Special Note: All artwork is the property of Abby Estes, stealing or copying it in any way without express permission is a big NO.